Art Deco architecture is a rare gem among Phoenix homes. Browse featured listings below and find out which historic Phoenix neighborhoods have Art Deco houses. Plus, learn about the history and characteristics of this architectural style, along with its benefits and drawbacks.
Neighborhoods With Art Deco Homes
While rare, there are eye-catching Art Deco houses in several historic Phoenix neighborhoods. They stand out with their unique designs. Browse our neighborhood pages below to find examples of new and historic Art Deco houses and condos across the Valley.
Art Deco Architecture History & Phoenix Roots
1920s-1930s — The Art Deco style originated in France prior to World War I. It was considered very modern, though it pulled from antiquity and ancient Egyptian art, and was separate from the modernist movement. The Art Deco style was most commonly used for skyscrapers and commercial buildings like diners, movie theaters and hotels. It's rare to find residences with this style, but they do exist. In the mid-1930s, builders continued using Art Deco, but due to the Great Depression they took a more economical approach. This resulted in Streamline Moderne, a subtype of the Art Deco style with a less decorative and more sober look. Art Deco fell out of trend at the start of WWII, but regained popularity at various points in later decades, including the 1960s and 1980s.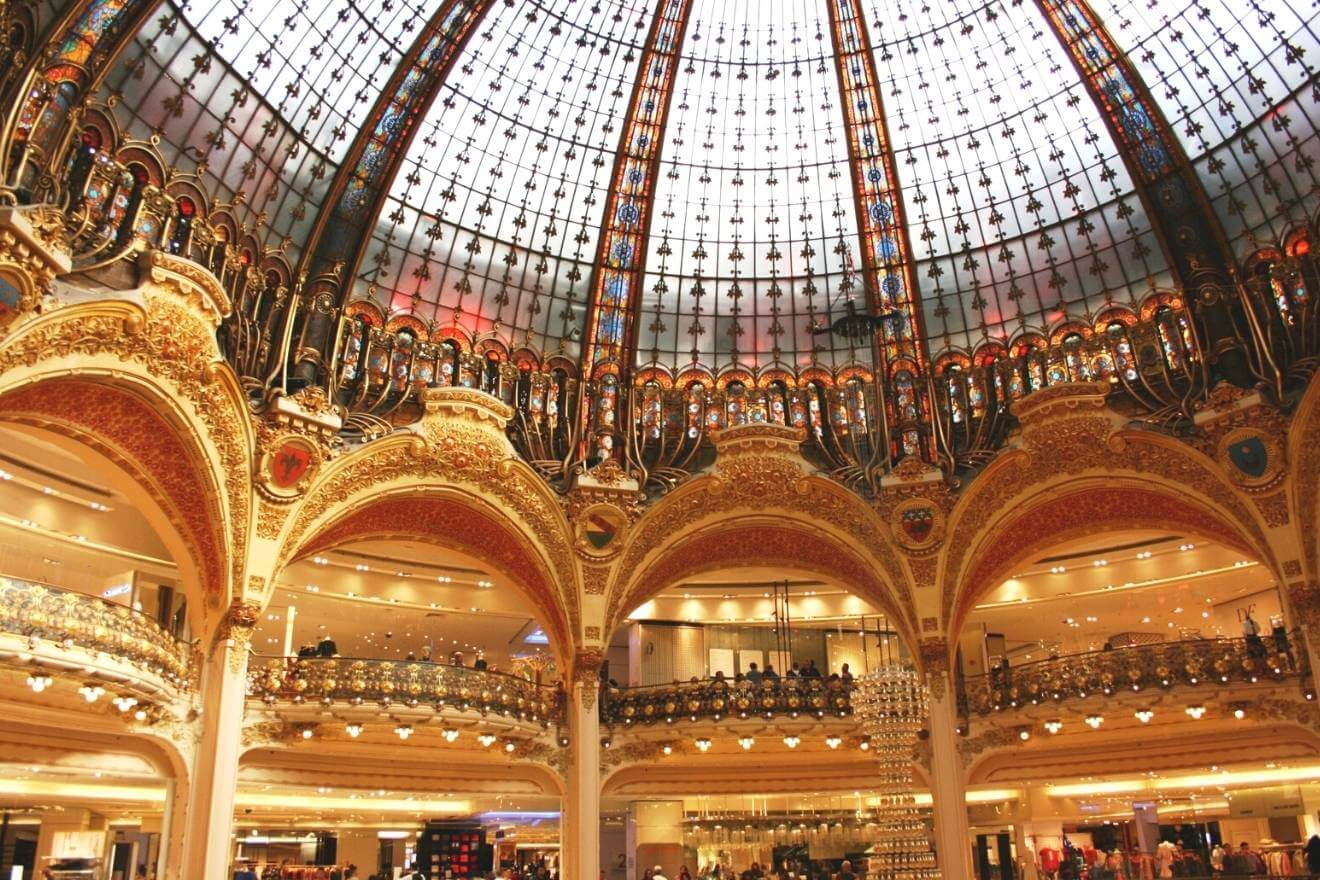 Art Deco began in France in the 1910s and was introduced to the world at the 1925 Exposition Internationale des Arts Décoratifs et Industriels Modernes in Paris.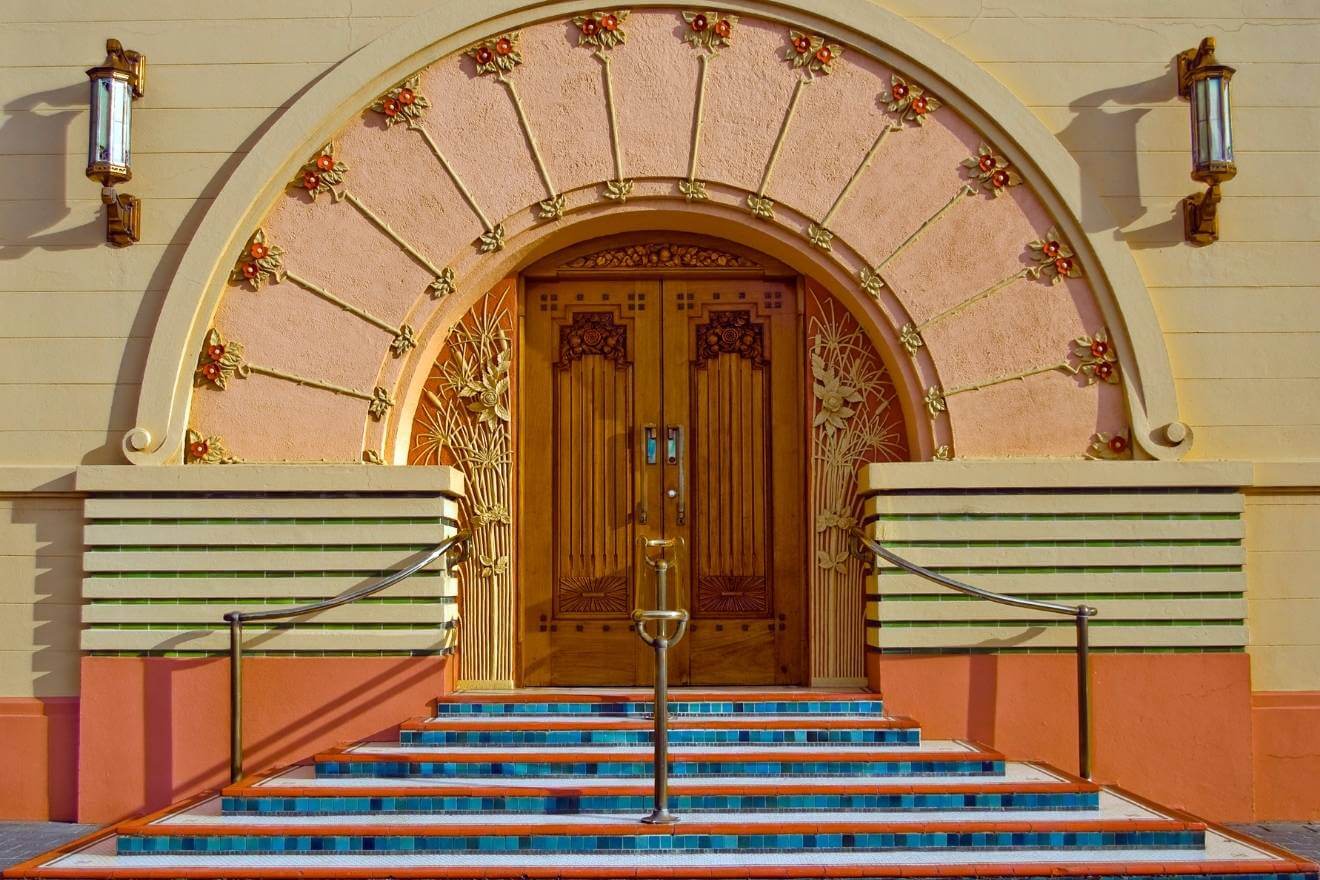 The style flourished across the U.S. during the '20s and '30s. From cars, ocean liners and trains to fashion, jewelry, architecture and home furnishings, it permeated the decorative arts, architecture and other industries.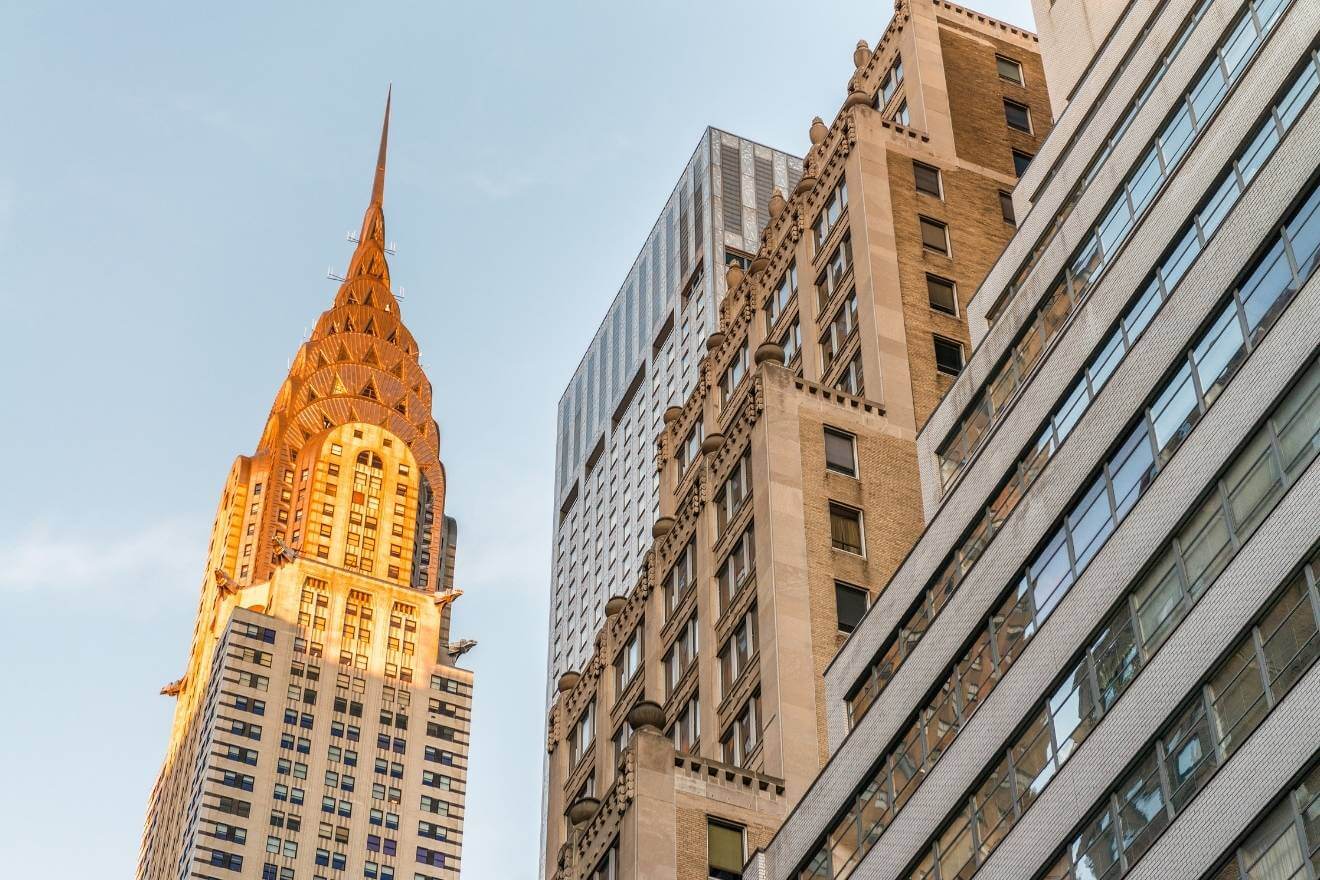 The popularity of Art Deco coincided with the sprint to build skyscrapers. While New York's Chrysler Building and Empire State Building are iconic examples from that time, there are many historic Art Deco gems in the Phoenix area too.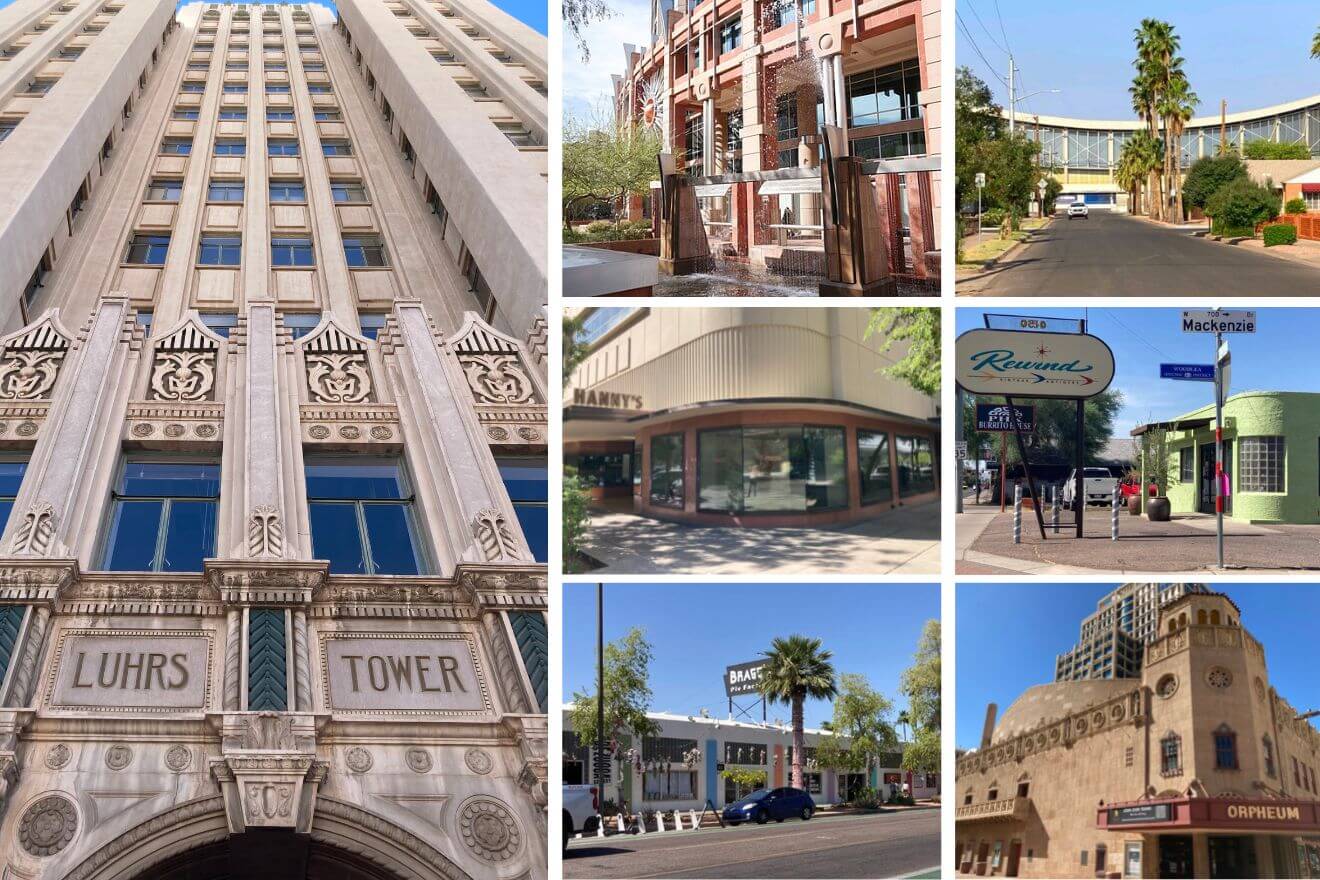 Luhrs Tower, Phoenix City Hall, the State Fair Building, Hanny's, Rewind Vintage Antiques, the Bragg's Pie Factory building, and the Orpheum Theater are just a few examples of well-preserved Art Deco buildings in Phoenix.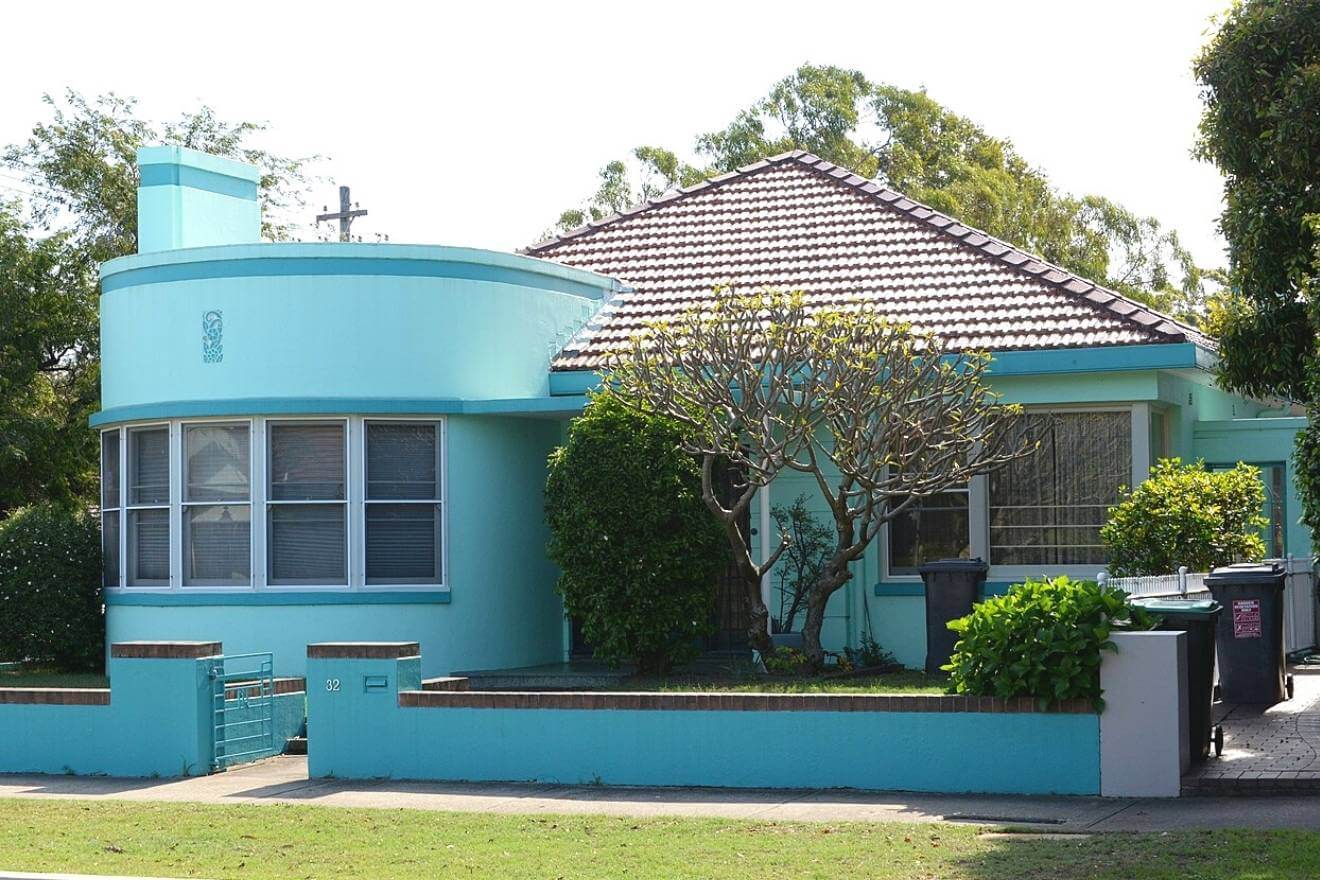 Art Deco homes are rare finds, but there are standout examples in several neighborhoods around the Valley. There are also some Art Deco-inspired condos and apartment buildings that were built in later decades.
Characteristics of Art Deco Architecture
This style is known for its smooth exteriors, which may be composed of stucco, mosaic tile, glazed brick or concrete block. Low-relief decorative panels around the roof edges, windows, entrances, and other locations add to the style's signature ornate look. Flute trim around doors and windows is also common, along with reeded glass or wood doors.
Decorative, often geometric patterns are often included in the designs as well. From Zigzags and chevrons to circles, rectangles, and nature forms, there are many different types of repeating motifs seen with this style.
Rounded corners are a defining feature too, along with sweeping curves. However, sharp angles and long horizontal lines are equally common. You'll also see spires and neoclassical elements, particularly on commercial buildings and skyscrapers.
Bold, contrasting colors are another key characteristic. In addition to gold, black, silver, and white, a broad range of interesting color combinations is possible.
On the interior, Art Deco buildings use a mix of traditional and modern materials. A high-gloss, Hollywood-glam look is achieved with glass, mirrors, chrome, steel, aluminum, and even neon. Their interiors also have a striking appearance with interesting light fixtures, wall paper, trim, and other unique details.
Art Deco homes tend to be more subdued than commercial structures, but they may exhibit any of the above characteristics.
Art Deco Architecture Pros & Cons
Art Deco homes and condos were built using more modern techniques than some older historic styles. They also usually have large windows that allow for lots of natural light. Another big benefit is that these homes have lots of character. For those who love unique features and a touch of drama, the Art Deco style delivers. You'll get the bold exterior and interior details you're looking for.
On the flip side of the coin, if you prefer a more traditional looking home, an Art Deco house will likely not suit your taste. In addition, while they are newer than some historic homes, they don't have the upgrades that houses built in the 1940s and beyond would have. There will likely be some maintenance issues, so a thorough inspection is important, as with any historic home.
You may also want some upgrades. Just check if the site is landmarked, which would limit the extent of changes that you can make. Finally, if you have rambunctious children or pets, a Deco home with lots of glass and mirrors on the interior may not be a good choice.
If you want to learn more about new and historic Art Deco condos and houses for sale in the Phoenix area, don't hesitate to contact our experienced real estate agents. Whether you're searching for a new home or other real estate investment opportunities in Arizona, we can't wait to hear from you!
Historic Phoenix Homes was named a top architect and design expert by Redfin.
Check out the Redfin article we were featured in:
Want To Buy An Art Deco Home?