Historic Phoenix Neighborhoods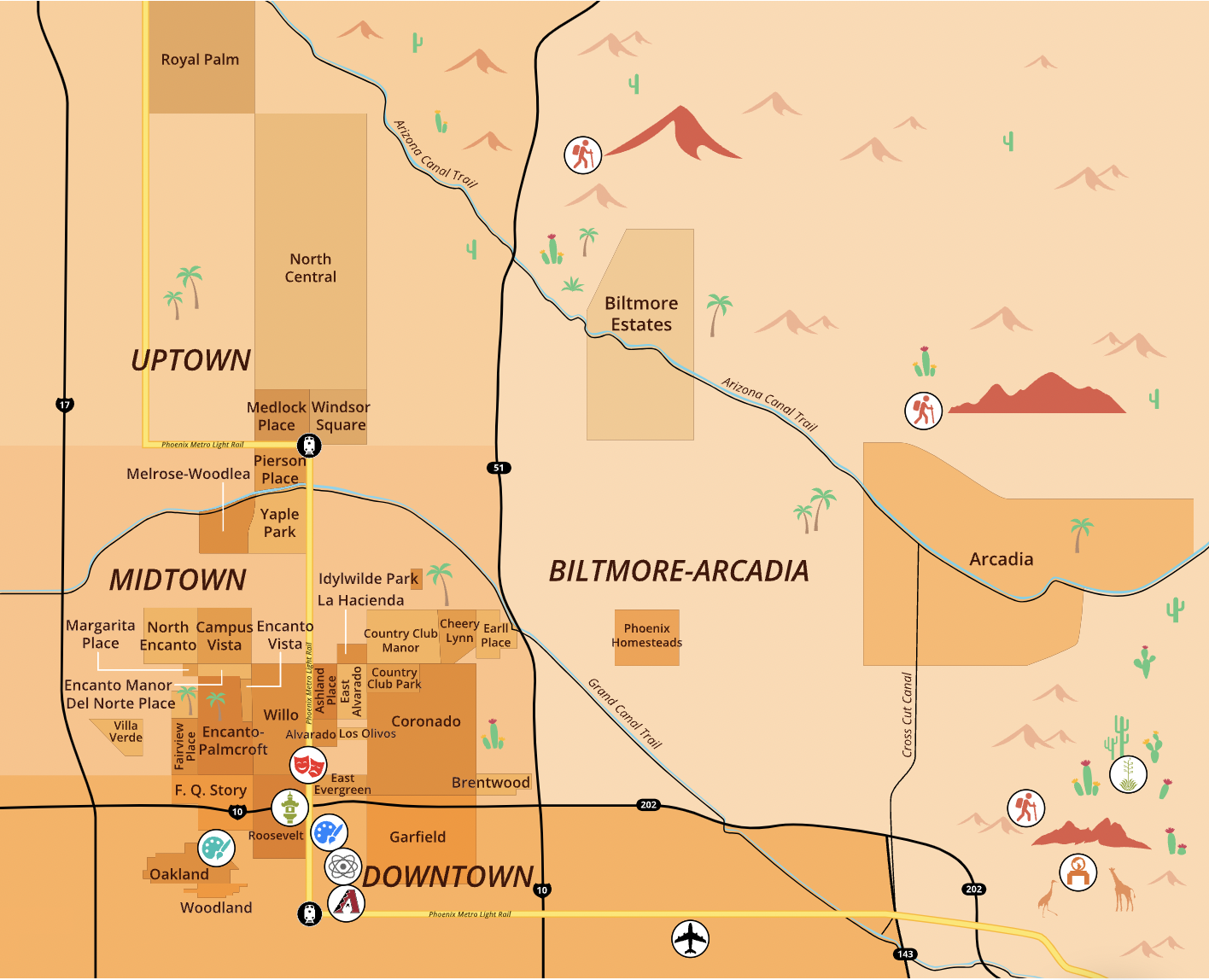 Alvarado is one of the most prestigious neighborhoods in Phoenix. It was built in the early 1900s and was developed as its own special community. Part of the original...


Population


Rent VS Ownership

AVG. selling price (180 days)


Recent Sales (180 days)

The Arcadia neighborhood brings a touch of Southern California to Phoenix. While it is not a historic district, its rich history, architecture, and location make it a must...


Population


Rent VS Ownership

AVG. selling price (180 days)


Recent Sales (180 days)

Ashland Place is a picture-perfect area. Located along Central Avenue near the light rail and arts district, its location couldn't get any better for those wanting a...


Population


Rent VS Ownership

AVG. selling price (180 days)


Recent Sales (180 days)

The Biltmore Estates is a glamorous historic community nestled next to CamelBack Mountain. It got its start in 1929 when the Arizona Biltmore Hotel was built with an...


Population


Rent VS Ownership

AVG. selling price (180 days)


Recent Sales (180 days)

The Brentwood neighborhood is a haven in the heart of the city where the I-10 & 51 freeway meet, just steps away from the McDowell restaurants and shops. This community...


Population


Rent VS Ownership

AVG. selling price (180 days)


Recent Sales (180 days)

Campus Vista is a gem of a neighborhood located alongside Phoenix College, between Encanto Park and Thomas Road. There was a need for more housing when the college opened...


Population


Rent VS Ownership

AVG. selling price (180 days)


Recent Sales (180 days)

The Cheery Lynn neighborhood is a beautiful place with unique historic homes. This community was built in the 1920s and 1930s on a wave of new development, innovation and...


Population


Rent VS Ownership

AVG. selling price (180 days)


Recent Sales (180 days)

The Coronado neighborhood is famous for its historic architecture, retro and modern designs, tight-knit community, and fun atmosphere. This community was built from the...


Population


Rent VS Ownership

AVG. selling price (180 days)


Recent Sales (180 days)

Country Club Manor is an oasis in the heart of Phoenix. This unique community was built in 1899 with incredible villas and stunning architecture. These homes were built...


Population


Rent VS Ownership

AVG. selling price (180 days)


Recent Sales (180 days)

Country Club Park is one of the loveliest and most peaceful locations you will find in midtown. It's a subdivision of Country Club Manor and shares the same upscale feel....


Population


Rent VS Ownership

AVG. selling price (180 days)


Recent Sales (180 days)

Del Norte Place is a hidden gem in the Encanto area of Phoenix. This community was built in 1927 and 1945, and is surrounded by Encanto Park on three sides. Within just a...


Population


Rent VS Ownership

AVG. selling price (180 days)


Recent Sales (180 days)

The Earll Place historic neighborhood was a part of the economic boom in Phoenix in the 1920s. Built from 1927 into the 1930s, it has an eclectic mix of Tudor Revival,...


Population


Rent VS Ownership

AVG. selling price (180 days)


Recent Sales (180 days)

East Alvarado is one of the smallest historic neighborhoods in Phoenix. Built from 1937 to 1942, these 30 homes stretch only one block. The average home in this area has 3...


Population


Rent VS Ownership

AVG. selling price (180 days)


Recent Sales (180 days)

The East Evergreen neighborhood is a little nook nestled off of 7th Street with convenient access to all downtown and midtown amenities. It's located near excellent...


Population


Rent VS Ownership

AVG. selling price (180 days)


Recent Sales (180 days)

Encanto Manor was built from 1945 to 1955. The area is nestled between Encanto Park and the center of Midtown Phoenix. There are 84 homes in two popular Ranch styles,...


Population


Rent VS Ownership

AVG. selling price (180 days)


Recent Sales (180 days)

There was a clear vision for Encanto Vista. The original land owner wanted to develop a high-end neighborhood and the buyers of the land fulfilled his wishes. Built in the...


Population


Rent VS Ownership

AVG. selling price (180 days)


Recent Sales (180 days)

Encanto-Palmcroft is a dream neighborhood filled with beautiful grand estates, villas, immaculate landscapes, and the famous Encanto Park. This neighborhood was created in...


Population


Rent VS Ownership

AVG. selling price (180 days)


Recent Sales (180 days)

F.Q. Story has a true storybook feel. It is one of the most popular historic districts near the downtown and midtown areas. With a wide range of architectural styles, it...


Population


Rent VS Ownership

AVG. selling price (180 days)


Recent Sales (180 days)

The Fairview Place neighborhood has a cool retro vibe with interesting Ranch homes and other eclectic architecture. The Arizona Fairground and Encanto Park are within view...


Population


Rent VS Ownership

AVG. selling price (180 days)


Recent Sales (180 days)

The Garfield neighborhood is a colorful community that brings character, art and fun to Downtown Phoenix. This community was built from 1883-1942 as one of the first...


Population


Rent VS Ownership

AVG. selling price (180 days)


Recent Sales (180 days)
Helpful Tools for Your Home Search
Historic Phoenix Homes offers the most comprehensive real estate website for Historic Phoenix. If you're searching for home in Phoenix, our team offers exceptional service to ensure that our clients have the best home buying & selling experience. Our focus is to make searching for a home easy. Finding the right neighborhood, a home and an investment that you will love. We know that research can be time consuming. The Historic Phoenix Homes website offers convenient search tools to simplify the process. Search by historic neighborhood, architecture style, or lifestyle. Filter by price, amenities, number of bedrooms and more. Then create an account to save listings that best meet your needs.
Historic Phoenix Homes for Sale
Our MLS real estate listings provide accurate and current property information. The MLS is a reputable resource for buyers. It's frequently updated and will give you greater exposure to available properties. Our MLS listings include many Historic and Mid-Century houses & condos for sale in Phoenix, Arizona. Choose from a plethora of beautiful options and contact us with any inquires.
Don't see an area you are interested in? Let us know! We have connections and partners all over Arizona, the US, and the world!