Spanish Colonial Architecture
Spanish Colonial architecture is the heart of traditional Phoenix homes. Scroll below to learn what Phoenix historic neighborhoods have this style of home, explore current featured listings, and learn about the history, characteristics, and strengths and challenges of this architecture style.
Neighborhoods With Spanish Colonial Homes
Spanish Colonial architecture is one of the most popular styles in historic Phoenix neighborhoods and throughout the Valley. Explore neighborhoods with traditional one-story homes, large Haciendas, and grand Villas in the historic Phoenix neighborhoods below.
Featured Spanish Architecture Listings
Browse our MLS listings to find new and historic Spanish Colonial Revival and Mission Revival Spanish houses for sale in Phoenix and surrounding cities like Scottsdale, Tempe and Mesa. Note that the MLS may not label a home's architecture correctly, so the search results below may not have all listings. Be sure to check out the neighborhoods above to find more Spanish Colonial homes for sale.
1
2
3
4
5
6
7
8
9
10
11
12
13
14
15
16
17
18
19
20
21
22
23
24
25

Spanish Colonial History & Phoenix Roots
Also known as Mediterranean Style (1890-1930) — Identified by their white stucco walls and red terra-cotta roofs, Spanish Colonial homes have a refined look and historical significance. This style was introduced in North America during the 1600s when Spanish settlers were building colonies. Their houses were at one with nature, featuring plant-covered courtyards and adobe structures made of clay. Thick, stuccoed walls kept homes cool during the day and comfortable throughout the night, making them ideal for arid climates. The beauty and practicality of this architecture regained popularity near the end of the 19th century when America was celebrating its centennial. American home builders began to revive various types of colonial architecture at that time and this style was highly favored.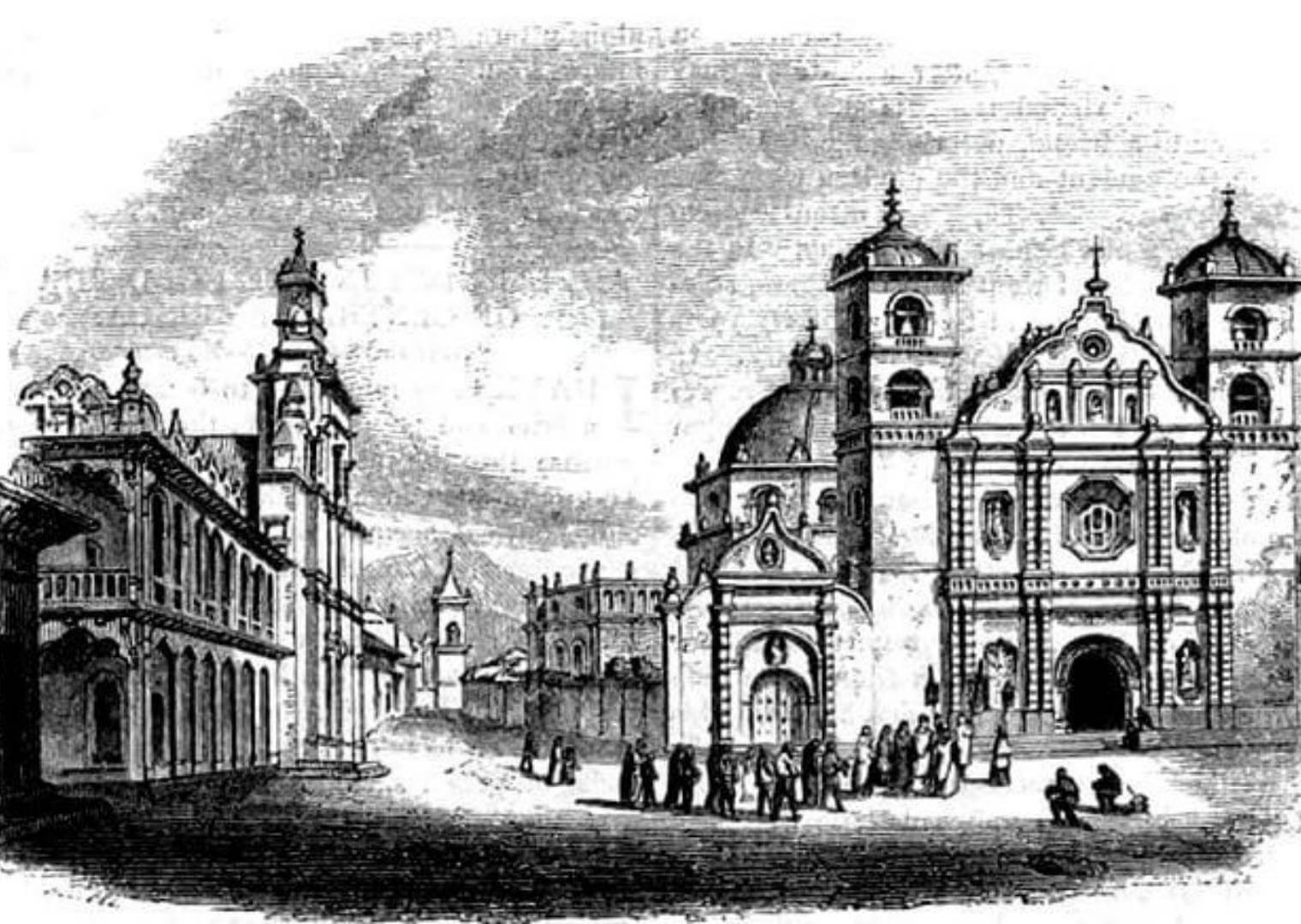 Spanish Colonial architecture was introduced in North America during the 1600s.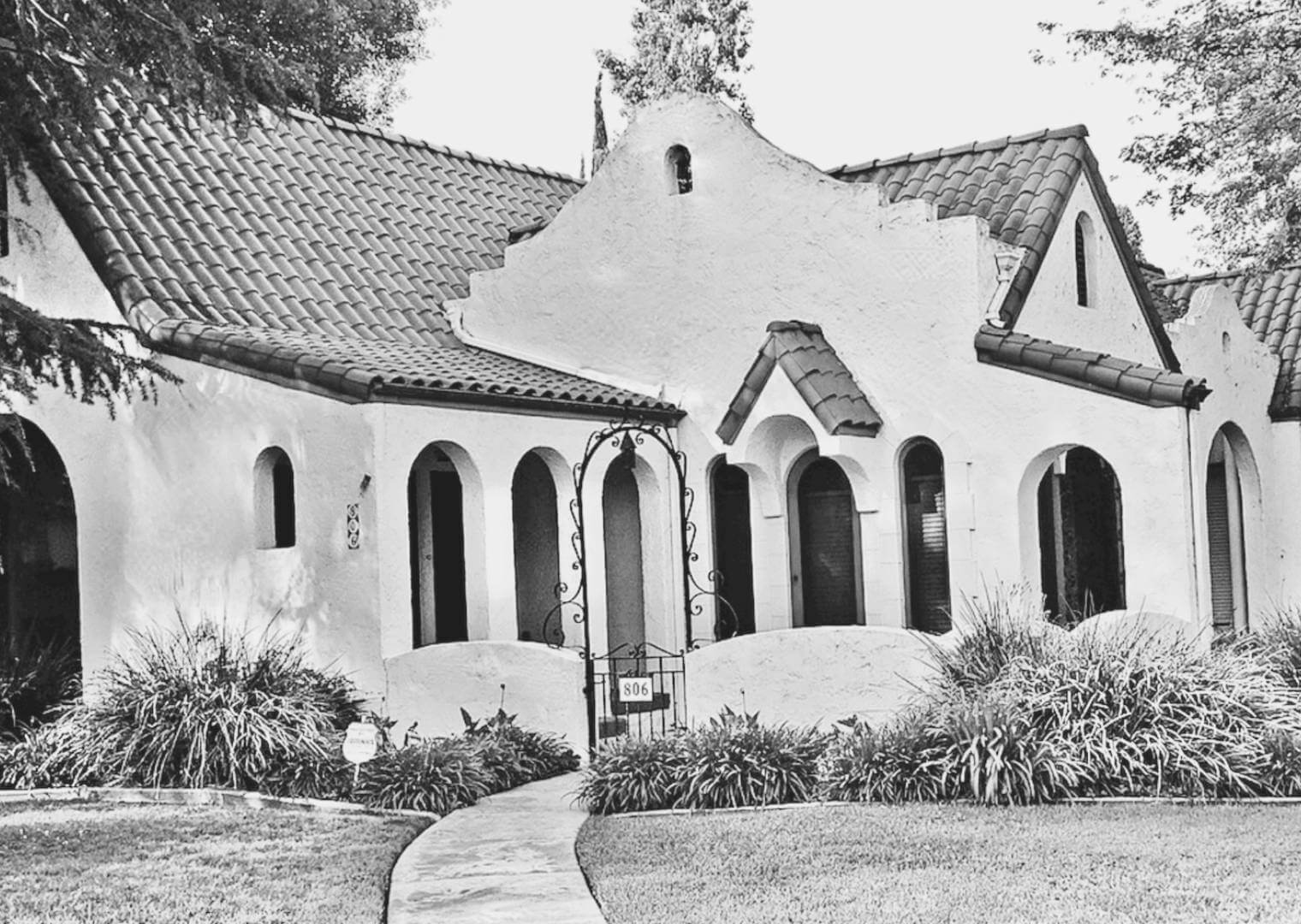 Spanish Colonial Revivals were built in Phoenix in the late 1800s and early 1900s, including gorgeous casita-sized homes, large haciendas and grand villas.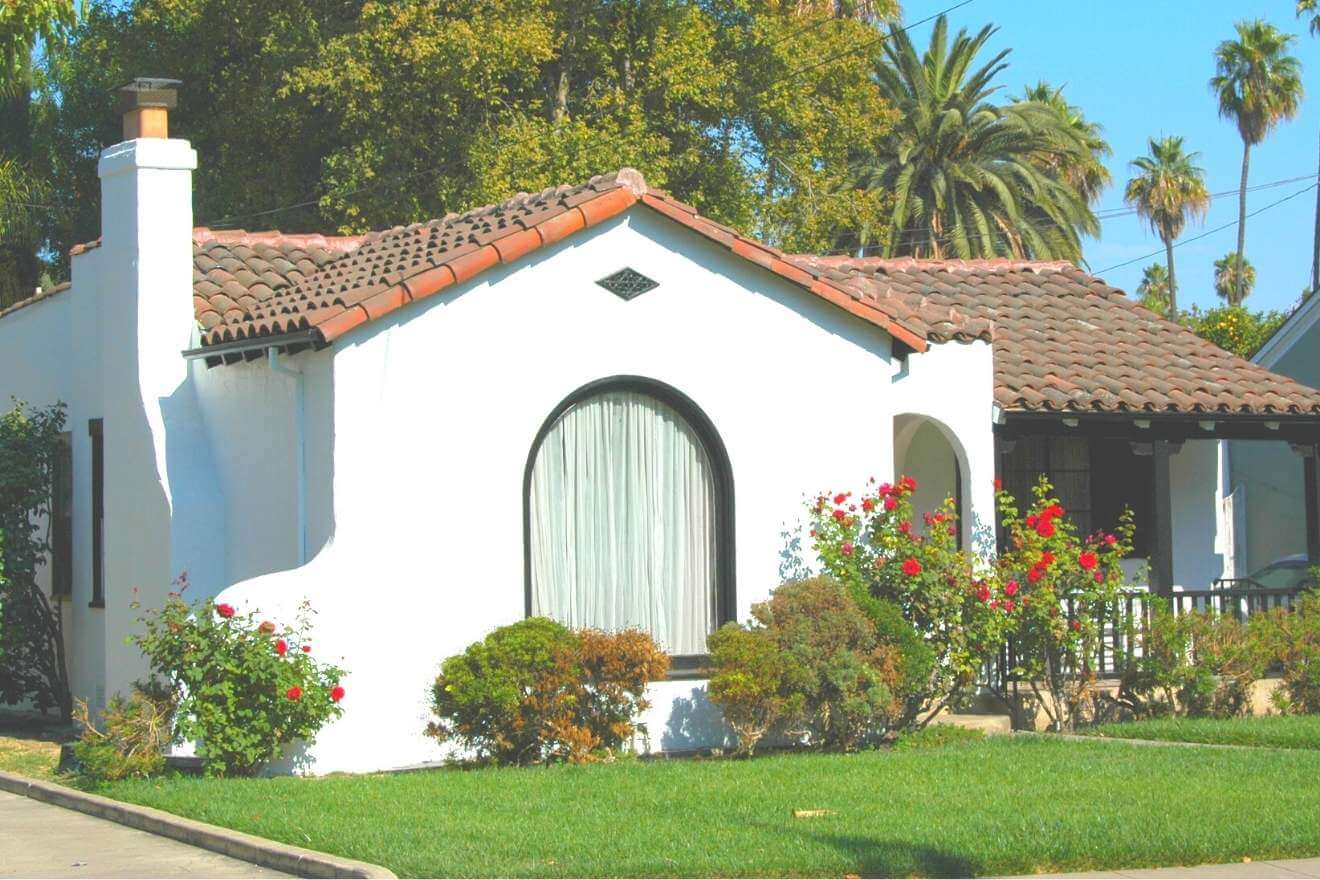 Historic Spanish Colonial homes can be found in pristine condition today in historic Phoenix neighborhoods.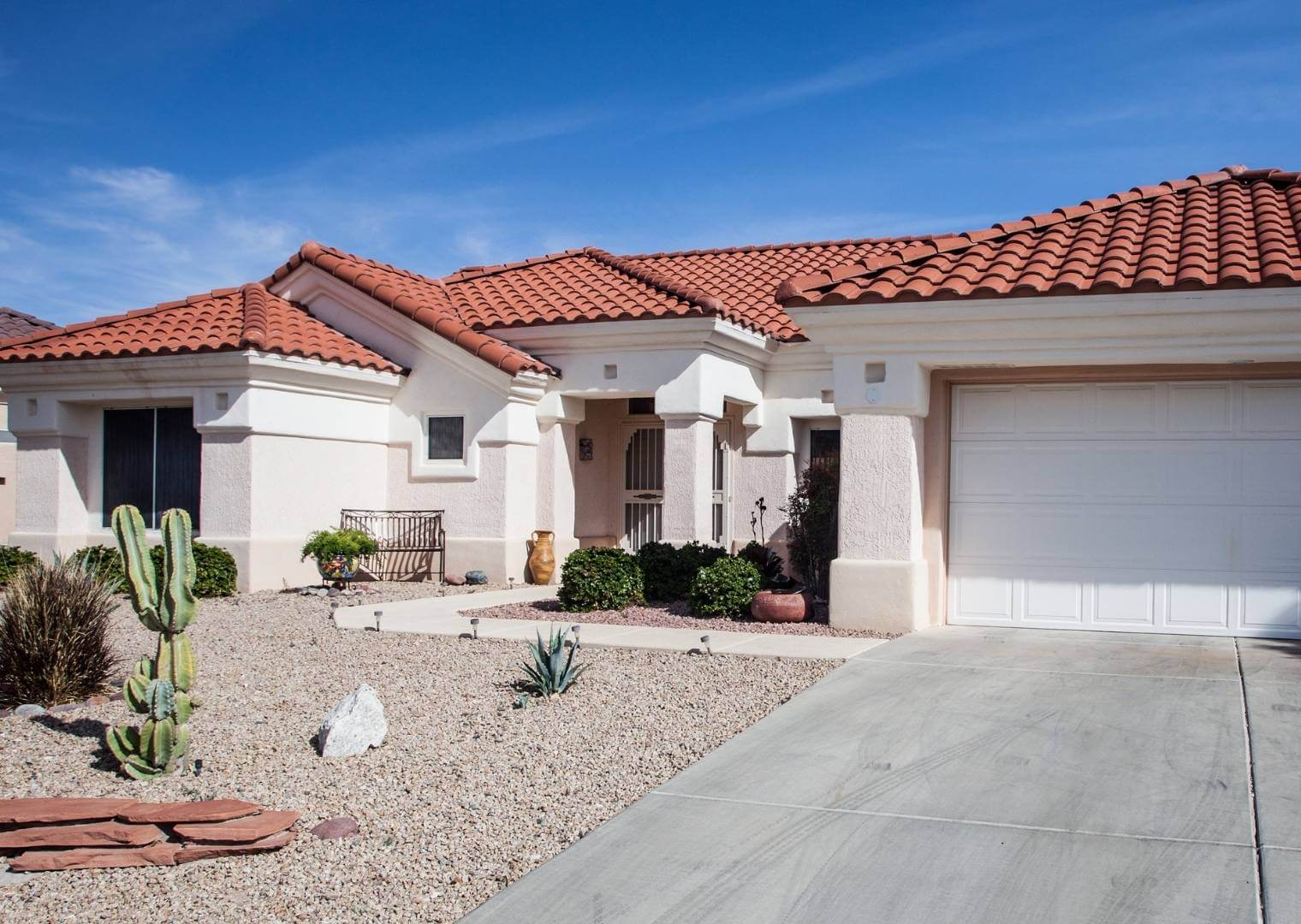 You will see Spanish Colonial roots in most all new homes built in the Phoenix area. They typically include Spanish Colonial exteriors and modern interiors with Ranch style layouts.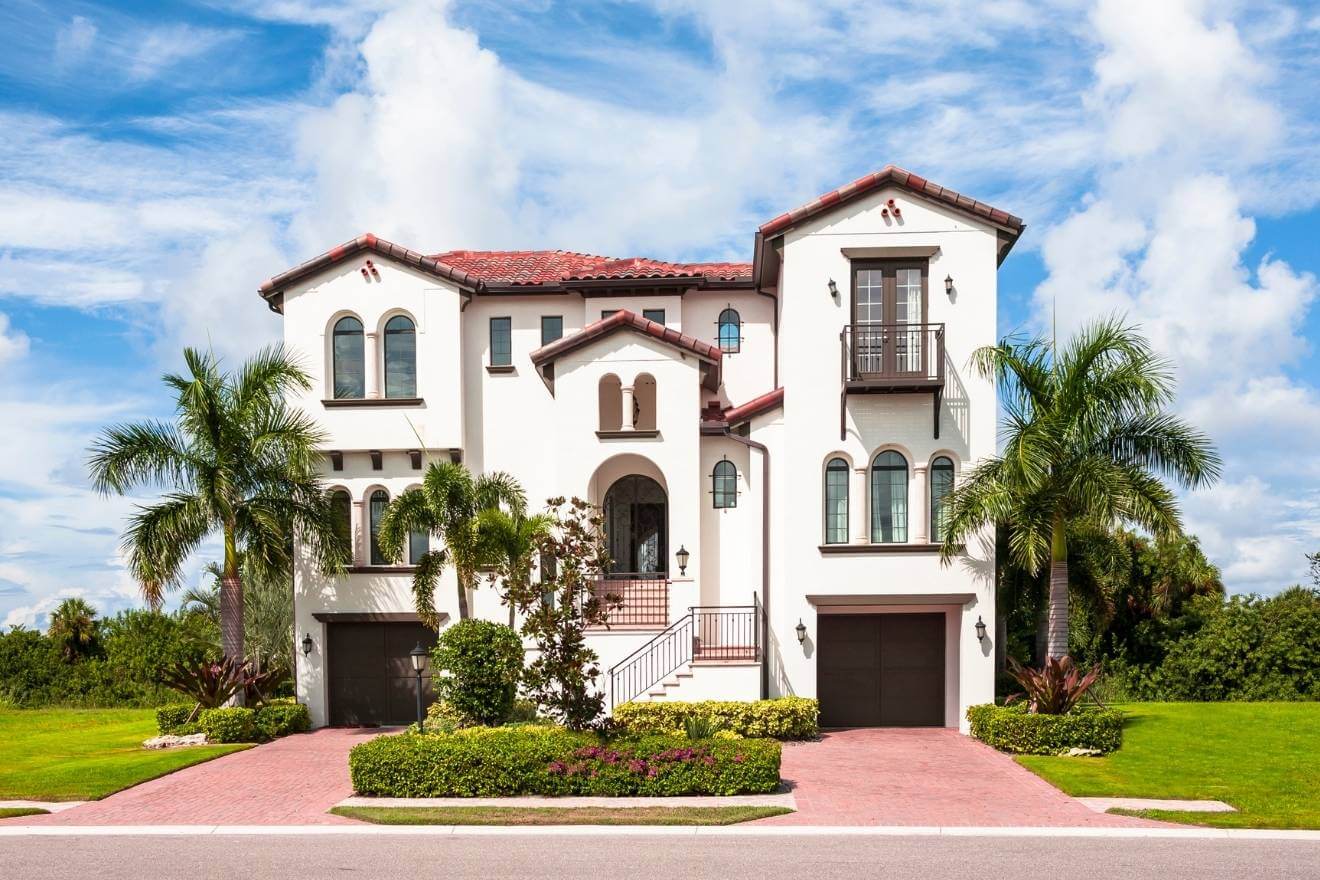 Custom architect-designed Spanish Colonials can also be found in the Phoenix area. Many closely replicate historic designs on the interior and exterior. These are some of the most sought after new luxury homes in the Valley.
Characteristics of Spanish Colonial Architecture
The Spanish Colonial style is influenced by Mediterranean, Spanish and Mexican architecture. It combines aspects from both residential homesteads and missions.
White stucco-coated walls and roofs shingled with red clay tiles give these houses their distinct look. The roofs are normally a combination of low-pitched gable, flat and shed styles. Small arched windows with wooden shutters are key design elements too, though many newer versions of these homes include double-hung windows. Arches are also frequently used in doorways and hallways, as well as outdoors over sheltered walking areas.
Spanish Revival homes are known for their rustic yet elegant look. Decorative wrought-iron is often featured in light fixtures, stair railings and front gates, while wooden beams line living room ceilings or exterior walls. Wooden beams originally served as support for heavy ceilings, but today they're usually included solely for aesthetic reasons. Other interior highlights may include colorful tile work, smooth plastered walls and fireplaces.
Courtyards are another common component of these homes. They may be located at the center, side or rear of the house. They're perfect for al fresco dining or to simply relax and hang out in a private outdoor setting.
Many of the early features of Spanish Colonial architecture were included out of necessity and practicality. In revivals, they still serve a practical purpose, especially in the hot Arizona climate, but the beautiful simplicity and historical significance of the style are what's most admired today.
The majority of these homes are small casitas and large ranch-size houses, but you can also find grand two- or even three-story villas. In addition to historic homes, there are many new houses with Spanish Colonial architecture. Some really capture its original essence, while others take only small design cues from the style.
Spanish Colonial Strengths & Challenges
Spanish Colonial homes are very well-suited for warm temperatures. Their thick, stucco-coated walls are effective at keeping heat out. The white color of the stucco also helps reflect sunlight. Smaller windows, which are often placed away from the sun, also help prevent excessive heat from getting in.
Long-lasting clay roof tiles are another benefit. They are highly durable, being resistant to wind, impact, rot and fire. They typically only need occasional maintenance and may last a lifetime if you take care to check them regularly for cracks and other possible damage.
Along with strengths, it's important to understand potential problems with buying older homes, and each architecture type will present different challenges. Two things to look out for with Spanish Colonial homes are leaks and cracked stucco. Some are built with flat roofs that may leak because water cannot drain properly. Wood beams should also be checked for damage from moisture and insects.
While unlikely in Arizona, adobe is prone to expand and contract when regularly exposed to cold, wet weather. This can cause the stucco to crack or separate from the interior wall. In addition, cracked stucco may indicate that there are foundation issues with a house.
To learn more about new and historic Spanish Colonial Revival houses for sale in the Phoenix area, contact our real estate agents. We're happy to answer any questions you have and can't wait to help you find the perfect Spanish Colonial home for your family.
Want To Buy A Spanish Colonial Home?