Pueblo Revival Architecture
Pueblo Revival architecture combines beautiful characteristics from both Native American and Spanish design. This style represents the original desert home. Explore featured listings below and learn which historic Phoenix neighborhoods have Pueblo Revival homes. Plus, get information about the history, characteristics, and strengths and challenges of Pueblo Revival architecture.
Neighborhoods With Pueblo Revival Homes
You'll find Pueblo Revival architecture in several historic Phoenix neighborhoods and other areas across the Valley. Explore neighborhoods with Pueblo Revival homes below.
Pueblo Revival History & Phoenix Roots
Also known as Spanish Colonial Pueblo or Santa Fe style (1910s-1930s) — While primarily based on the homes of Native American tribes, Pueblo Revival architecture is also influenced by Spanish Colonial, Spanish Mission and Territorial designs. Over the centuries, these fusions made Pueblo homes very diverse. They may include Greek Revival window trim or have deeply inset windows with no sills. Some have flat or sloped roofs, while others have pitched roofs. And this is only a small taste of the variety that these homes offer. All typically include smooth earth-toned walls with curved edges, wood beams that pierce the exterior, and parapets of various styles. During the period revival movement at the turn of the 20th century, the Pueblo home in all of its diverse forms regained popularity.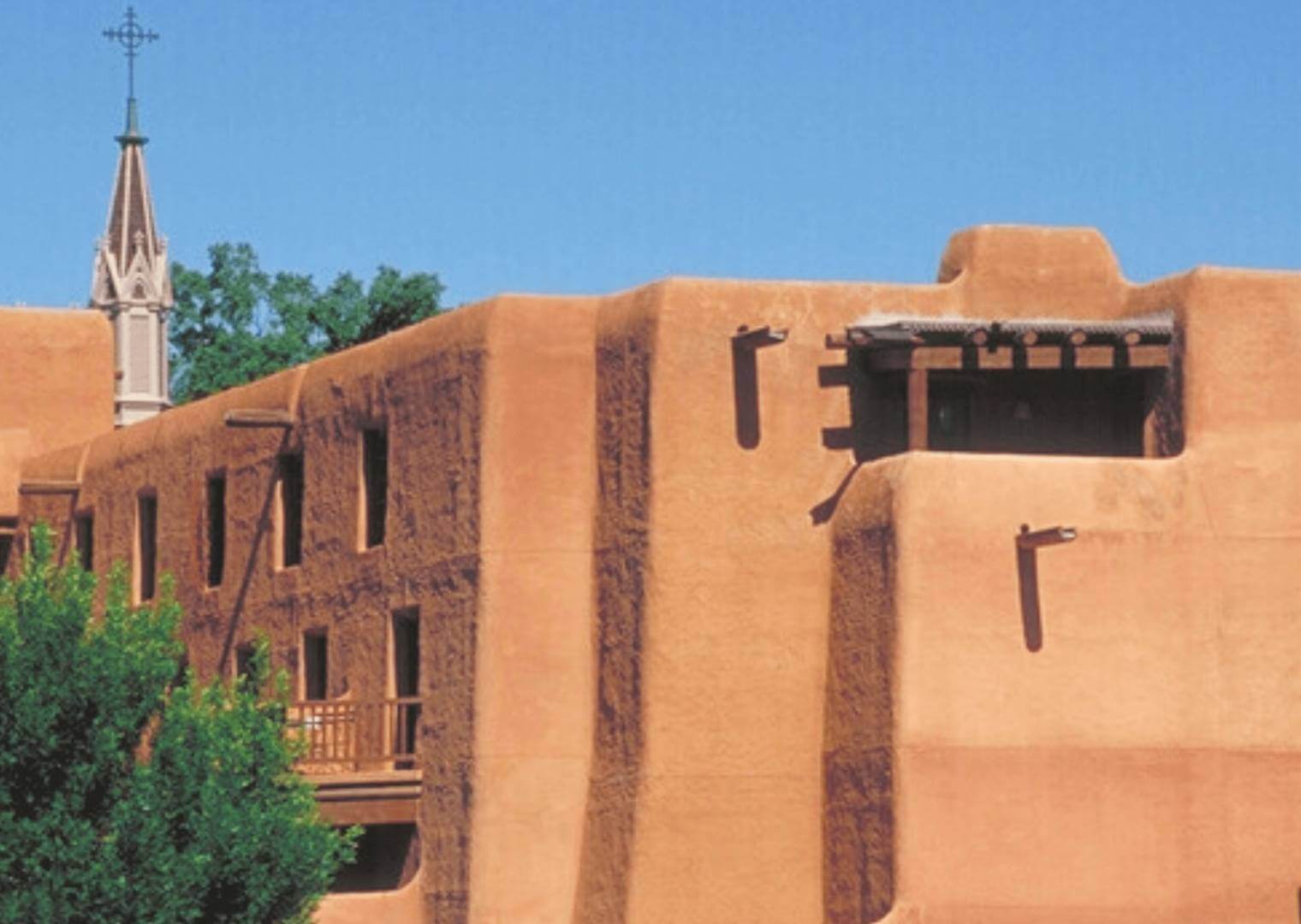 Spanish colonizers discovered Pueblo tribes in the Rio Grande Valley in the 16th century. When constructing homes and community buildings, they combined some of the Pueblo's building designs and materials with their own techniques.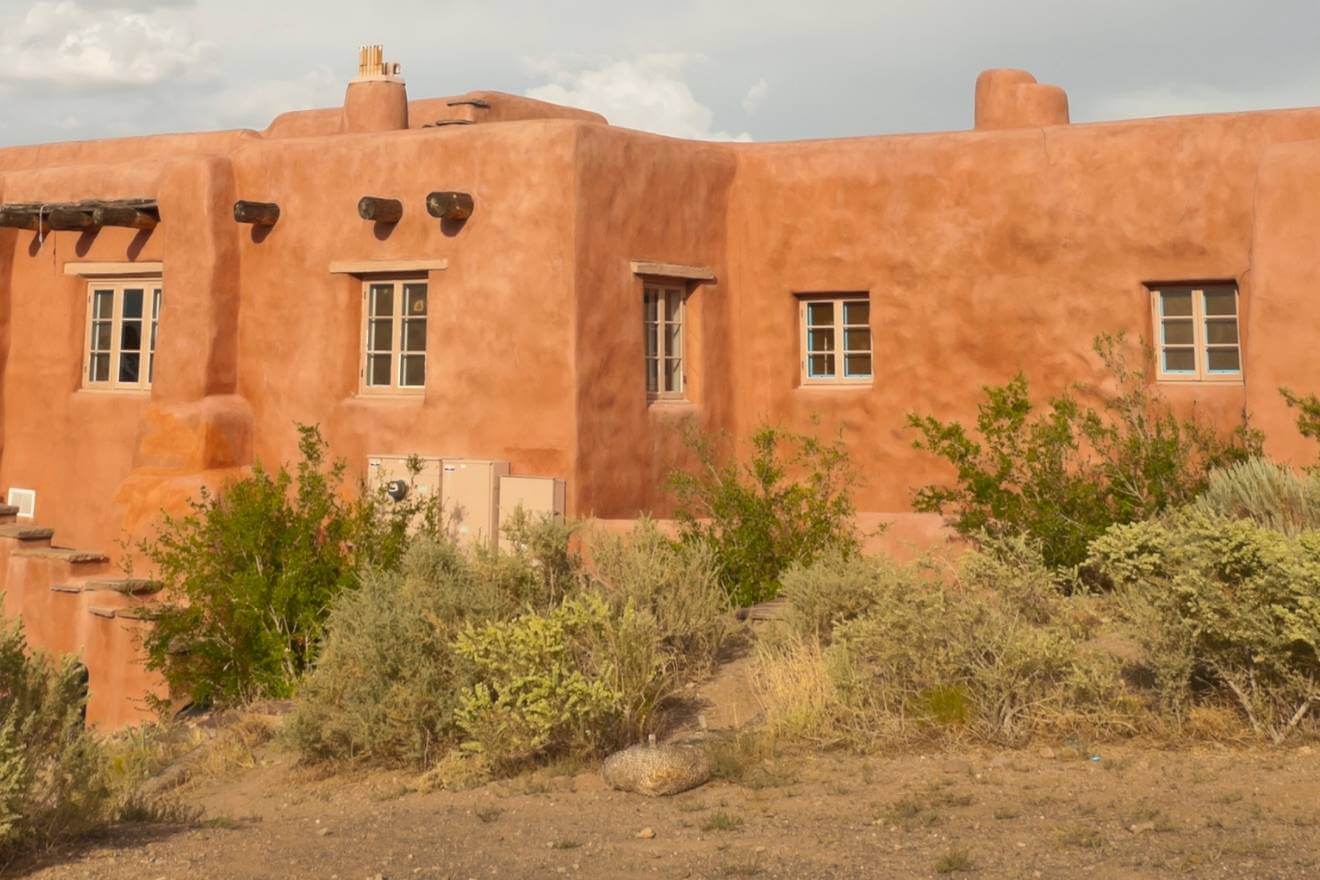 When Anglo-Americans arrived in New Mexico in 1846, they incorporated Territorial style into the native adobe homes. This included Greek Revival features that were popular in other areas around the U.S.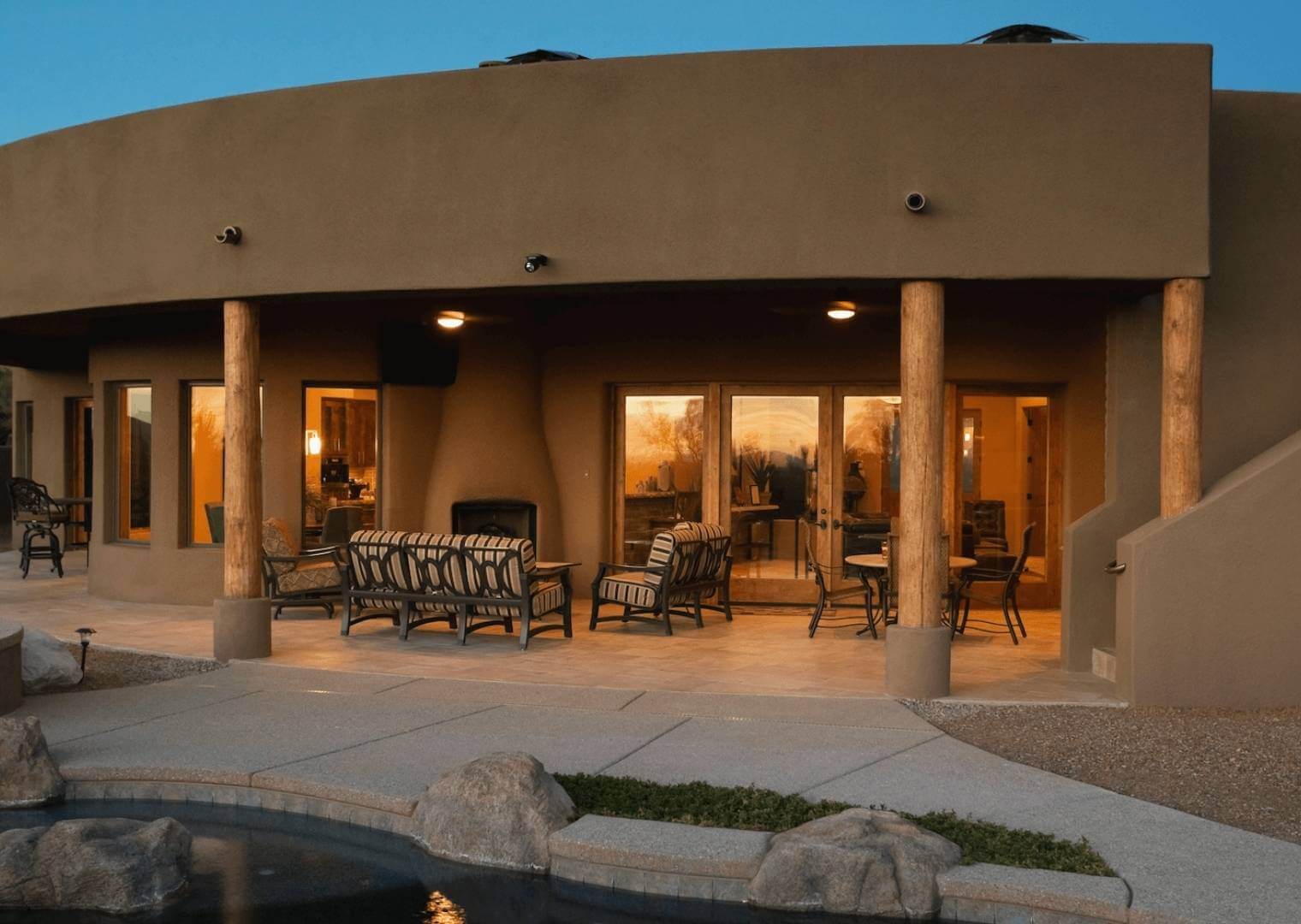 Newer Pueblo Revival homes in Arizona often have an exterior with historic styling and an interior with a modern ranch layout.
Characteristics of Pueblo Revival Architecture
Pueblo Revival architecture is mostly influenced by Pueblo and Spanish residential styles. Territorial elements were brought in later by Anglo-Americans when the U.S. took over New Mexico and Arizona.
Like the indigenous homes they are based on, Pueblo Revival residences blend in with nature. They have thick walls made of adobe, concrete or mortar. Smooth earth-colored stucco covers the walls and creates the style's distinct round edges. Wood beams line the interior ceiling and pierce through to the exterior.
Due to all of the influences that reshaped Pueblo design over time, other features on these homes can be quite diverse. Windows may be arched, square or rectangular. There could even be Baroque Spanish windows or vents on models with strong mission influences. Some windows are deeply inset and do not have sills, like on Mission Revival homes, while others have Greek Revival window trim and shutters on the sides. Double-hung and horizontal-slider windows were included on later models or added as replacements.
Door designs vary greatly as well. They may be arched or rectangular with thick, ornately carved wood. Models with more of a Territorial influence may have Greek Revival door trim. Porches, or portales, may be arcaded with Spanish style arches. They could also be lined with a few square or round columns that are topped with capitals, as seen in Territorial designs. Porches are located at the front or side of the house. Enclosed courtyards aren't uncommon either, and they give a nod to ancient Pueblo homes that were built around communal spaces.
The variety continues with roof types. It's common to see smooth roofs that are flat or sloped, but there are also Pueblo Revival homes with pitched metal or tiled roofs. Some homes combine both flat and pitched roof styles. Parapets have similar differences, where either you'll see Spanish Mission or Territorial styles, or perhaps a combination of both. Again, the Territorial style will resemble Greek Revival architecture, so these parapets look like cornices. Spanish Mission style parapets will typically extend farther above the roofline and have the same curved shapes as they do on mission churches.
Pueblo Revival homes range from small casitas to large multi-story villas. In addition to historic homes, there are many new houses with Pueblo Revival architecture for sale in Arizona.
Pueblo Revival Strengths & Challenges
Pueblo Revival homes are made for the desert. The Native Americans' special materials and building methods made their homes naturally cool and perfect for the southwest. Revivals provide the same superior insulation, with thick walls that absorb heat during the day and slowly release warmth into the home throughout the night.
While there are Pueblo Revival homes with gable and hip roofs, many have flat roofs, which present the biggest challenges for this architecture. Even though they are made with a highly durable material, older models generally lack effective drainage systems. And while later models have more modern drainage systems, they are typically made with drywall which is less durable.
Both are susceptible to leaks and rotting for these reasons, so home inspections are incredibly important. Wood beams should also be checked for issues with moisture and insects. Cracked stucco is another problem to look out for. This could indicate foundation issues and other potential problems.
For more information about new and historic Pueblo Revival houses for sale in the Phoenix area, please contact our real estate agents. We can't wait to help you find the perfect Pueblo Revival home!
Want To Buy A Pueblo Revival Home?